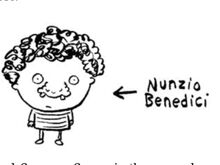 "As if I need to tell you, Nunzio Benedici is the kid in my class who can shove the most eraser tips in his nose."
Timmy Failure, Timmy Failure: Now Look What You've Done
Nunzio Benedici is one of classmates. He generally likes to shove things (such as eraser tips and acorns) up his nose. He had a case for Timmy in "Timmy Failure: Now Look What You've Done.The spoon he used to eat his applesauce, Spooney Spoon was missing. When Timmy went to Glouberman Academy, he saw Minnie, Nunzio's cousin, had taken it. His habits with his nose have had some effects, like when the class went to Camp Monkeychuck to work on the nature project, he didn't collect anything, instead spending the entire trip shoving acorns up his nose. This caused Rollo, his partner to have a breakdown because it ended up getting them a B+ and dropping Rollo's GPA to a 4.2.
In Timmy Failure: Sanitized for Your Protection, he served as the Vice President of YIP YAP, and was briefly believed by Timmy to have been the one who stole the money.
History
Nunzio Bendicici was the child in Timmy's class who could shove the most erasers up his nose.